These photos were submitted by Wendy Vogelgesang following her return from 12 days of volunteering at the Lamar-Dixon animal shelter in Gonzales, LA. Read the full Chronicles at our Blogger site.
Click on any thumbnail image for a larger picture.
Wendy, Jill and Sandy with Wendy's first rescue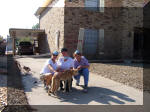 The French Quarter
The animal barns at the Lamar-Dixon shelter...
A typical happy resident at Lamar-Dixon ...
And the human facilities, including home sweet (away-from) home...
The interior of a typical house encountered on their rescue missions...
Exterior sights from around the city (yes, that is a plane...)
What happens when the water recedes...
And finally, unfortunately not all of the rescue stories are successes...

Last updated 11/07/2010
© Holly Newman 2000-2016. All rights reserved.
Photos for owner's use only. Reproduction or commercial use allowed only with permission of both owner and photographer.