Cruiser was the first (and arguably the best) agility dog I ever met. In fact, she was a key player in my discovery of agility. Our first glimpse of agility was in May 1998, when 4-month-old Jasmine and I went to the Marin Humane Society Canine Games event for some socialization and a good time. That was the year Sarah Johnson and Cruiser won the Iron Dog medal for the highest total score across 5 events (including agility). In 1999, we returned to the MHS Games and watched in awe as they repeated their feat. At that time, I thought Sarah was clearly a legend and Cruiser was obviously the most brilliant dog on the planet. Over the years since then, Sarah and I have become great friends and I learned that Cruiser was indeed one-of-a-kind.
-- Holly Newman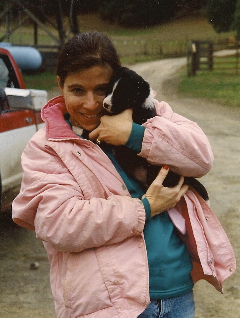 Sarah with Cruiser at 5 weeks old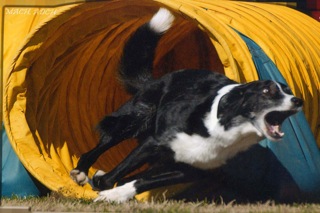 Two of Sarah's favorite agility photos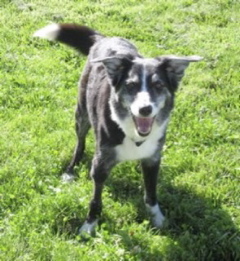 2008, age 13-1/2, 2 weeks post-splenectomy
Cruiser was a wedding gift from the caretakers of our cattle ranch in Garberville. We were given pick of the litter, and at the time we didn't know or care about puppy testing or breeding lines. How did we pick the perfect puppy? The bitch was my favorite ranch dog - I explained to her that she should produce a female, black & white with 4 white feet, a full collar with a centered blaze and a white tip on her tail. There she was, exactly what we ordered. We have a 1971 Land Cruiser at the ranch, and I figured she would be Cruisering around with me and that is how she got her name.
Long before she started agility at 4 years old, she was already accomplished in Flying Disk, sheep herding, obedience, and as a Therapy Dog. Our start in agility came from the Marin Humane Society Canine Games event - she won the Silly Pet Tricks and the Iron Dog title (overall winner in several events, including agility) two years in a row.
AKC MACH, USDAA LAA-Silver, nearly LAA-Gold (8 legs shy). She retired when she couldn't see the jumps anymore. In National competitions, she was in Grand Prix Semi-finals every year from 2000 -2004, and in Grand Prix Veterans Finals from age 10-13 with multiple wins and winning the veterans all – around at age 12. At 10 years old, she finished on the podium at the Purina Incredible Dog Challenge - the oldest dog to make Nationals and the oldest dog to medal. Her best agility years were when she was 8 & 9 years old, she was top 10 in several categories.

Her titles are not what made her so special, she loved everybody and every dog. She was generally regarded by those who knew her as one of the smartest dogs they have known. She was a once-in-a-lifetime dog.
She has been in kidney failure for over a year, and had a splenectomy a year ago. Up to her last day she had a full life. Though we struggled with ups and down in her appetite, she could still go on 30 min walks/trots with no lameness, and she remained happy and barky and still wanted to play.
Cruiser went to the ranch with David yesterday - last night, she jumped up onto her favorite chair, but a few minutes later she couldn't get up for dinner. He immediately packed up and drove her three hours to the ER. Then we went home so that her entire family could spend her last few hours together in bed. She was at peace and in no pain. This morning, we took her to our vet who agreed she had probably had a vascular event or seizure from which there would be no meaningful recovery. David and I let her go to the Rainbow Bridge to be with all of her friends.
I have always promised Cruiser that I would let her live her life with full dignity. This morning, I did my best to honor that promise.
-- Sarah Johnson
Last updated 11/07/2010
© Holly Newman 2000-2016. All rights reserved.
Photos for owner's use only. Reproduction or commercial use allowed only with permission of both owner and photographer.