Happy Ending!
After a few weeks at the humane society, all of the dogs have found homes. Two of them went to close friends of mine - Maia has recovered from her hair-raising ordeal and her puppy-nurturing to become a happy house dog, spending her days at work with her new dad who works at the City of Novato. Libby (now called Lili) is growing fast, has huge pricked ears, and spends all day hanging out with her new dad. Maia's dad calls Lili a life-support system for a pair of ears. I don't know what became of Kodiak, but I trust the Marin Humane Society completely and I'm sure that he is doing fine.
Libby is 25 lbs and growing
Maia is fat and happy at her new home

---
The Puppies (Original Size)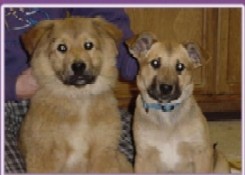 Click on any thumbnail image for a larger picture. These are the puppies that Rich rescued from the side of Highway 58 near Bakersfield on Sunday 12/1/02. All were surrendered to the Marin Humane Society on 12/3/02 for placement. For the full story of these dogs, scroll down. Photos by Sarah Johnson.
Libby, 17 lbs
Kodiak, 24 lbs
Maia (which means 'good mother' in Greek), 38 lbs
The full story of the Thanksgiving Puppies
When Rich (my husband) was returning from Las Vegas on Sunday, he discovered a momma-dog and 4 puppies fending for themselves next to Hiway 58 outside Buttonwillow. Momma was spending all of her energy diligently keeping the puppies from getting killed in traffic. He drove on, trying to convince himself that someone else would take care of it, but after about 5 miles he turned around - after all, he is the marshmallow who can't even set foot into a shelter because there isn't room in the van for all of the dogs.

While he was gathering the dogs and gaining their trust, two truckers pulled over down the road and walked back to see what was going on. The three of them sat on the grass by the side of the highway like fools with puppies crawling over them and licking their faces. Both of the truckers had been looking for dogs, and each of them claimed a puppy on the spot. One headed back to a 50-acre farm in Missouri with another dog, and the other is going to a ranch in Oklahoma.

Considering his options (waiting for the sheriff and Animal Control on Sunday evening of Thanksgiving weekend or leaving them there to die), Rich loaded the two remaining puppies and momma into the van and drove home to my waiting arms, food bowls and x-pen.

Momma had a current license from Kern County, but no other tags. I called them Monday morning, hoping to uncover a frantic owner leading to a tearful reunion. Instead, I found what my instincts had predicted: a disconnected phone number for the owner, two other licensed dogs (who knows what became of them), and a history of citations from Animal Control.

So, if anybody knows of someone looking for either a puppy or an adult pet dog, look no further. Momma (apparently named Brittany, but we renamed her Maia, which is Greek for "good mother") is incredibly sweet, probably a cattle dog mix, weighing in at 38 lbs. She has Jasmine's coloring (reddish-brown), short hair, cattle dog size and structure (but not as heavy a chest), and a northern-breed curly tail (Shiba Inu-like). Puppies are probably 10-12 weeks and may have two dads, both big. Boy puppy (Kodiak) is 24 lbs, and a total furball. Looks like a Chow baby and is going to be a bruiser. Girl puppy (Libby) is 17 lbs, short-haired, looks more like her mother, but will probably be bigger. I don't consider the puppies hot agility prospects because of their bone size, but Momma may be another story. I don't know anything about her drive or work ethic, but for those out there who are challenged by the mixed-breed beauties, she is definitely worth a look.

I have turned them over to the Marin Humane Society for placement. They get a flea bath, de-worming, vet eval and treatment, microchip, neutering, and a 2-wk vet follow-up 'warranty' - hard to beat that for $95.

Contact me if you have any interest or know anybody who does.
Last updated 04/27/2012
© Holly Newman 2000-2016. All rights reserved.
Photos for owner's use only. Reproduction or commercial use allowed only with permission of both owner and photographer.
agilepooch.com